THE SNEAKER DROP NO ONE COULD SLEEP ON
adidas Originals has always existed to empower creators. As we set out to launch Nite Jogger, a sneaker geared towards late-night creators, we wanted to prove this once again.
Just like the sneakers themselves, which use reflective technology to look completely different in the dark, these creators are one thing by day, another by night. By day, nine-to-fivers, working against the rules set out by society; by night, creators finally free to work on something that matters to them.
So often, however, these creators are left working alone — with no facilitation or even anyone speaking their language.
That's why, rather than creating a traditional campaign, we created an entirely new brand:
NITE GOODS. A provider of products and services designed to fight the number one enemy of late-night creativity: sleep.
Then, instead of hyping the sneaker — we hyped the products. With full campaign ecosystems surrounding each of the NITE GOODS, from traditional media, to social activations, to physical moments on the streets of New York City.
NITEBEAR
We first turned to an object meant to comfort you, and made something that would do anything but.
Introducing NiteBear. Hand-crafted in Brooklyn by Junichi Nanake of Kumanokoido fame, and with only 60 in existence, the bear also featured hi-vis elements, inspired by the sneaker's own reflective detailing, and the voice of Eric André, host of one of our audience's most beloved late-night television shows.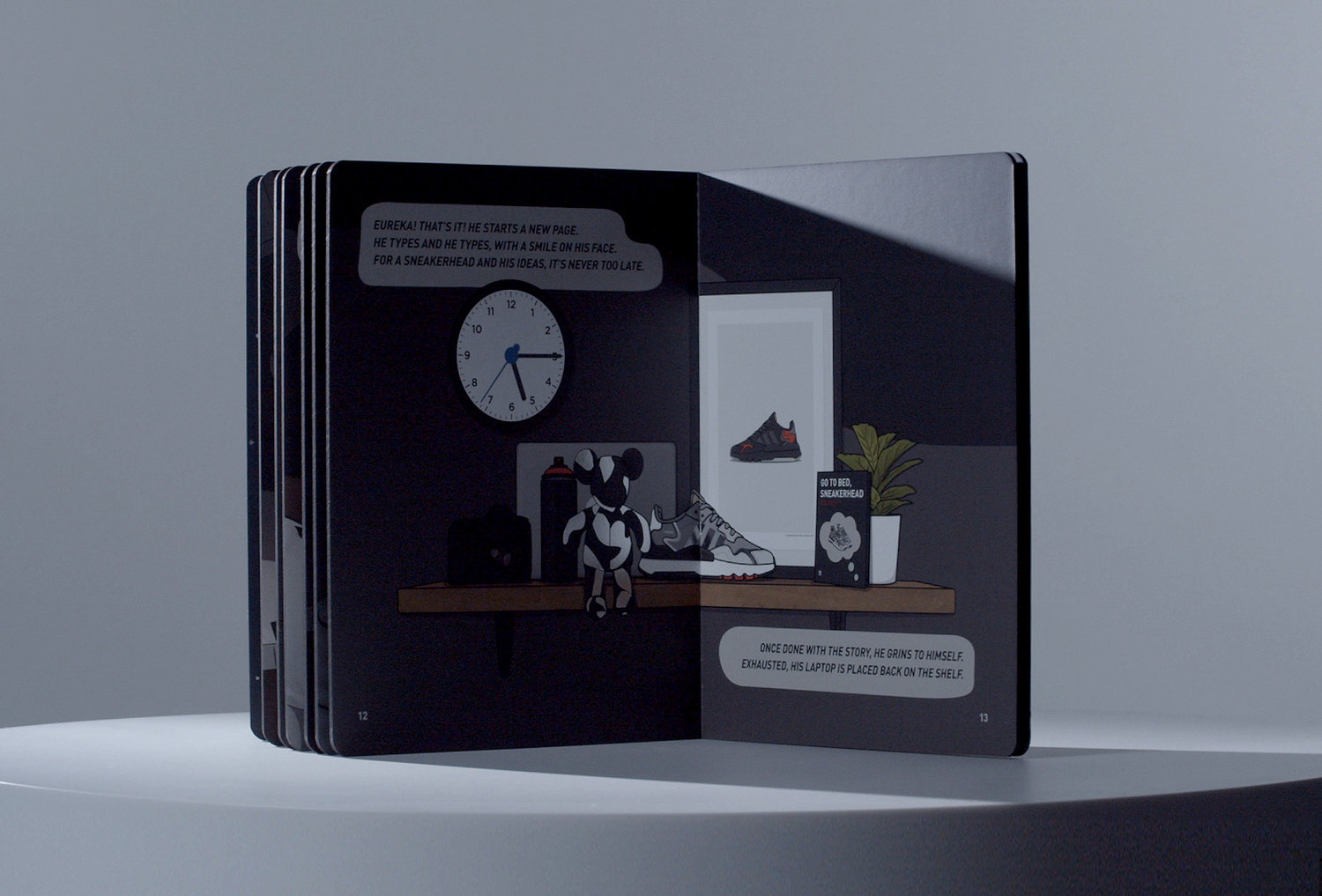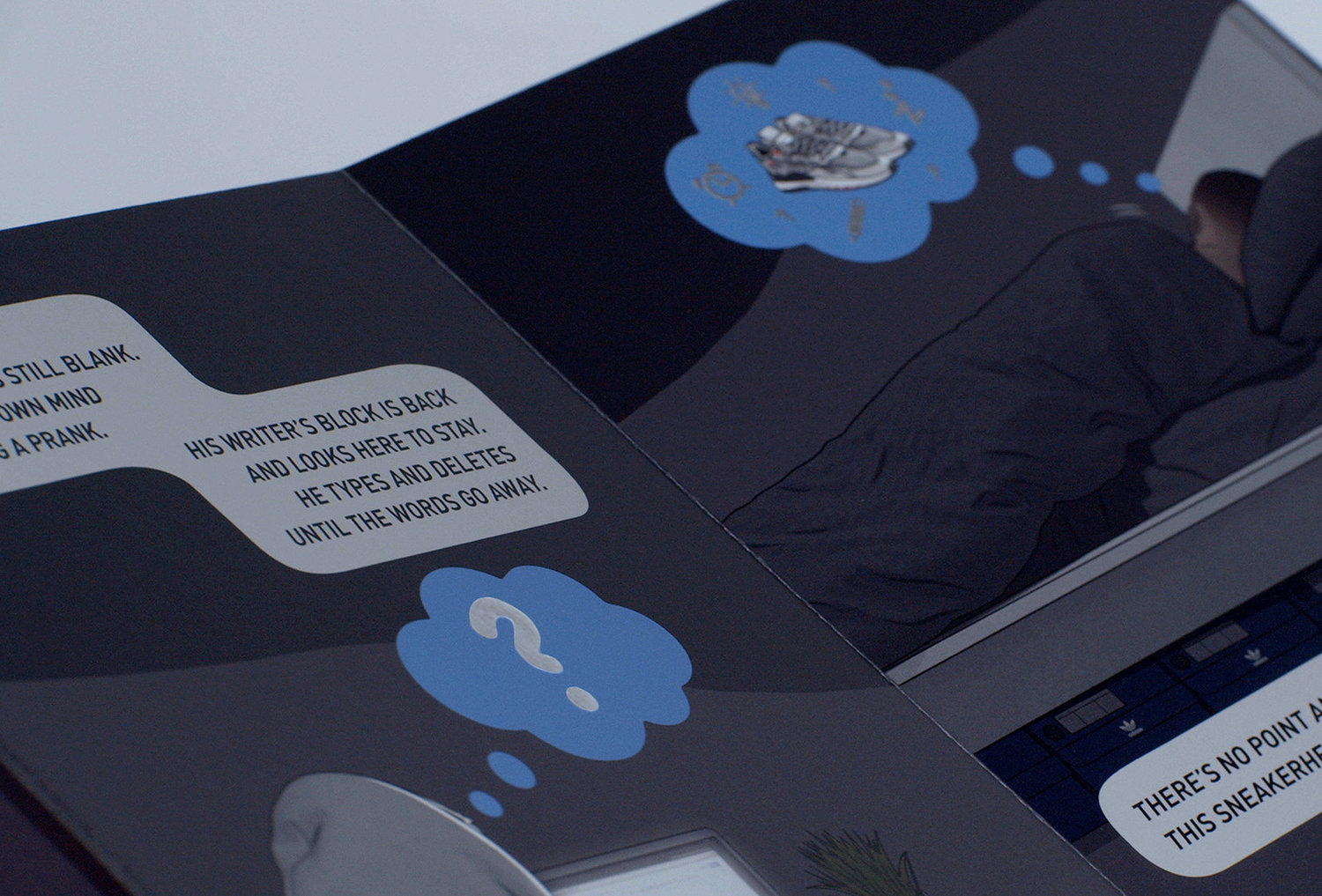 GO TO BED, SNEAKERHEAD
The anti-bedtime story. Created by some of sneaker culture's most preeminent creators: writer Fabian Gorsler of Highsnobiety, and designer/illustrator Dan Freebairn of @kickposters.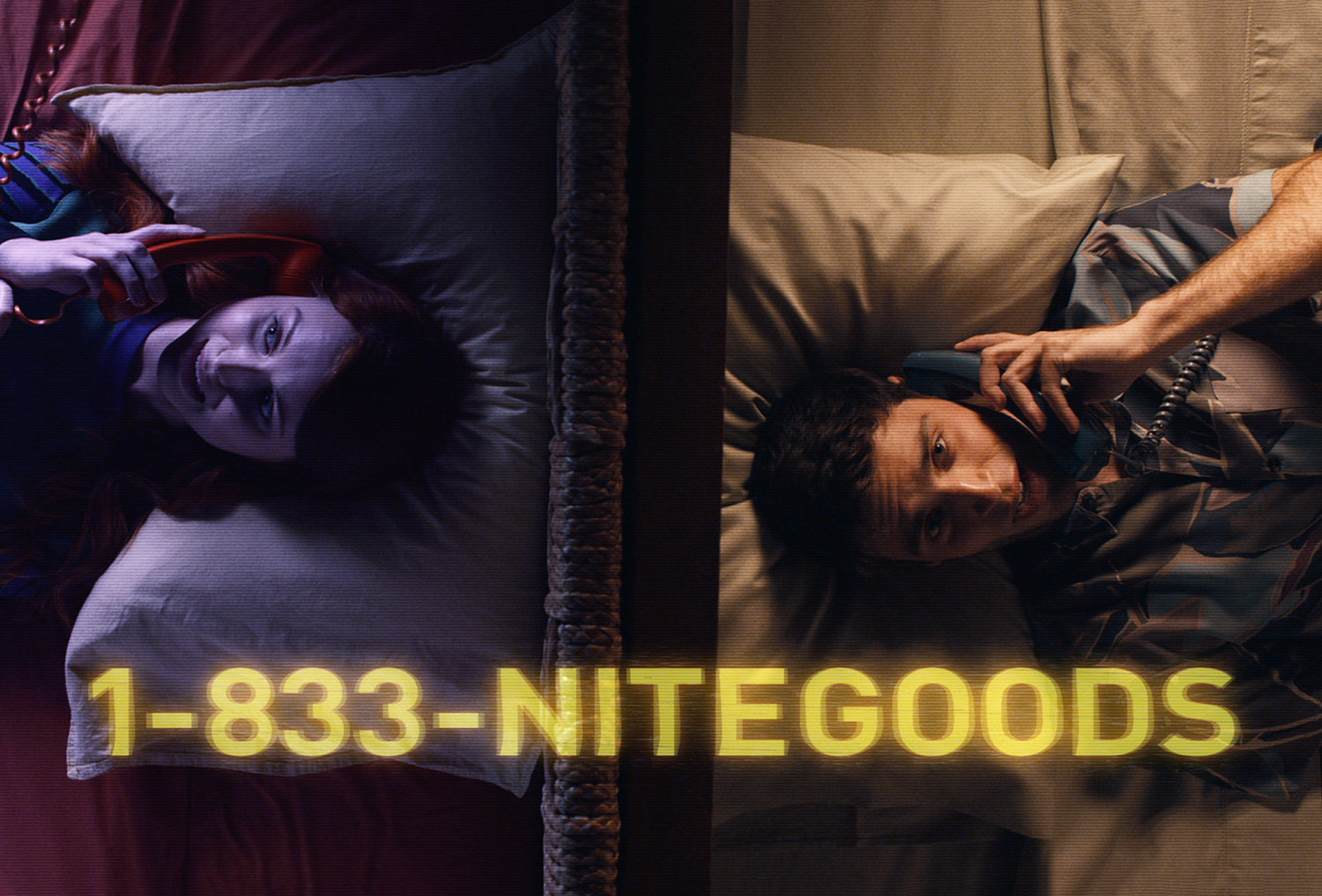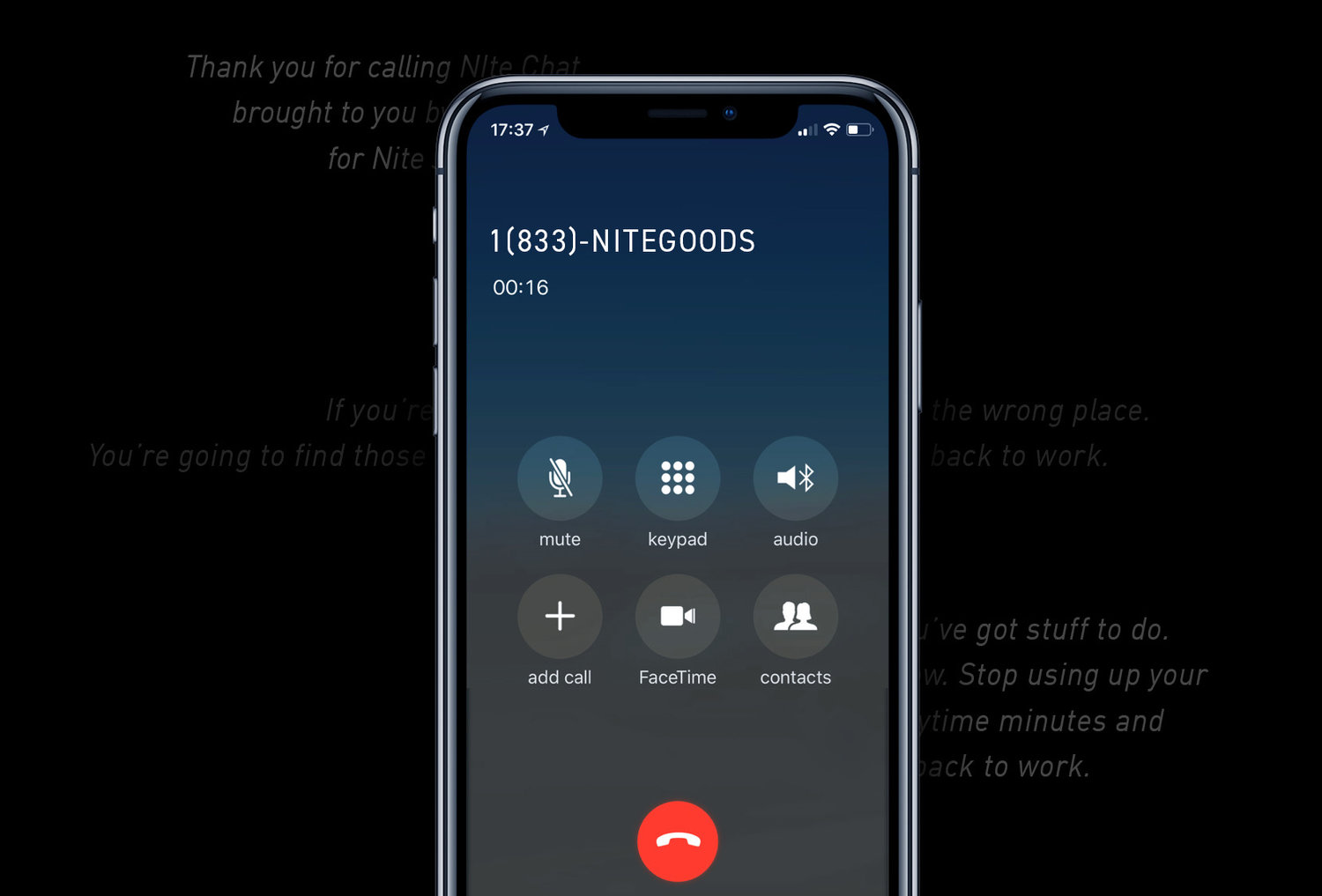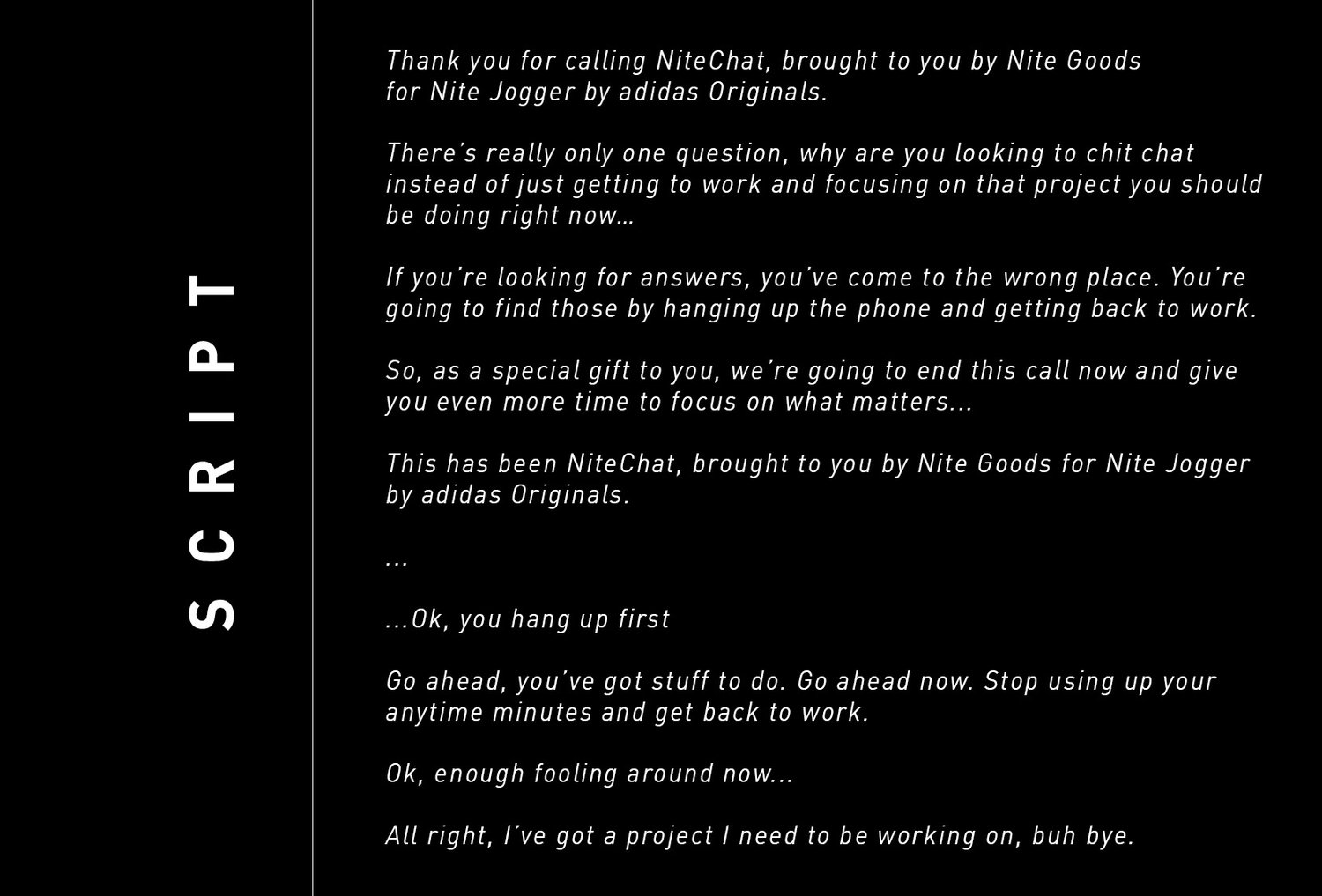 NITECHAT
A late-night helpline creators could actually dial in-to, for inspiration and motivation to keep them going when they need it most.
THEN, RATHER THAN ADVERTISING THE SNEAKER,
WE ADVERTISED THE PRODUCTS
TARGETED TEASER FILMS
Launched online and on social, giving a first-hand glimpse at the products in full, and driving late-night creators to an address — where anything could happen.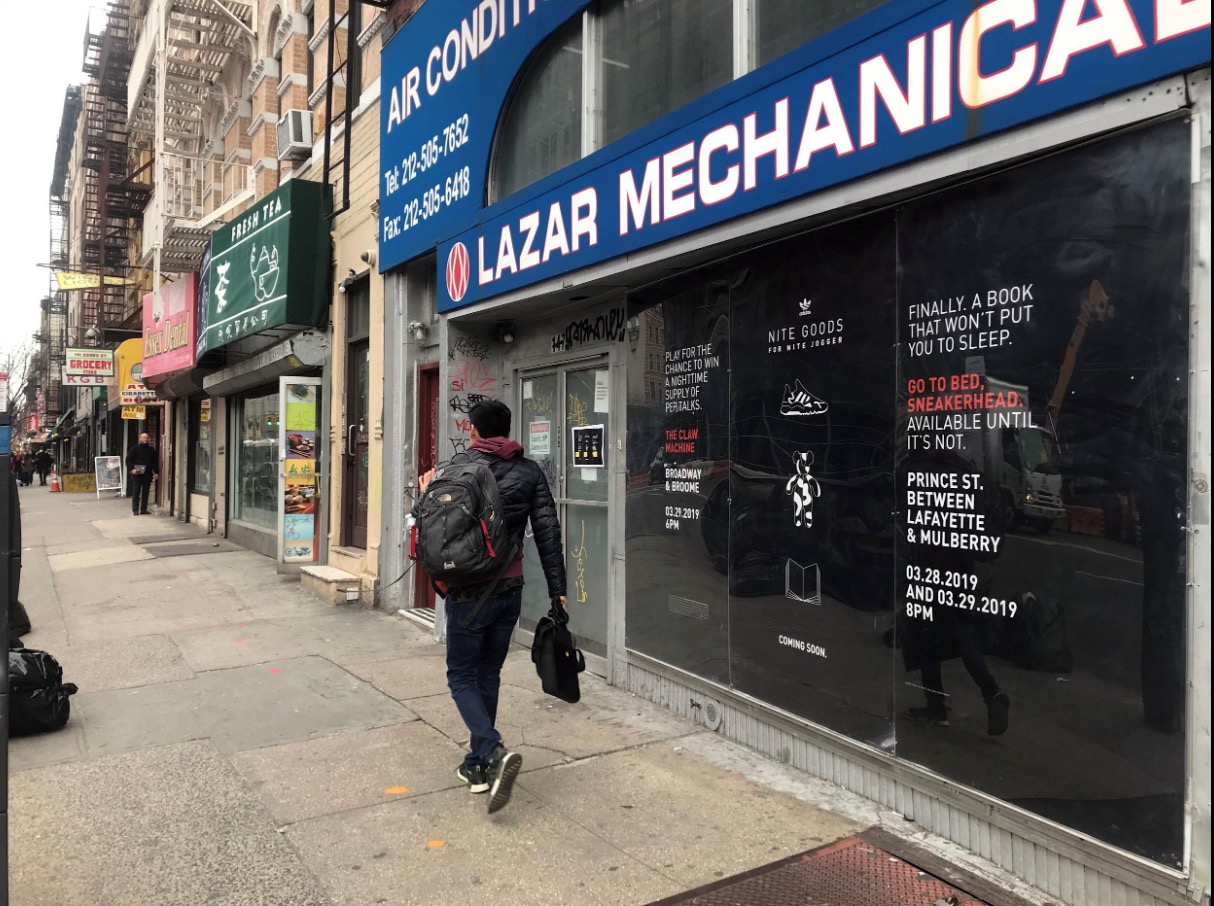 WILD POSTINGS
Appearing in some of the most relevant late-night spots throughout downtown New York, teasing the products — and where to cop them.
SOCIAL TAKEOVERS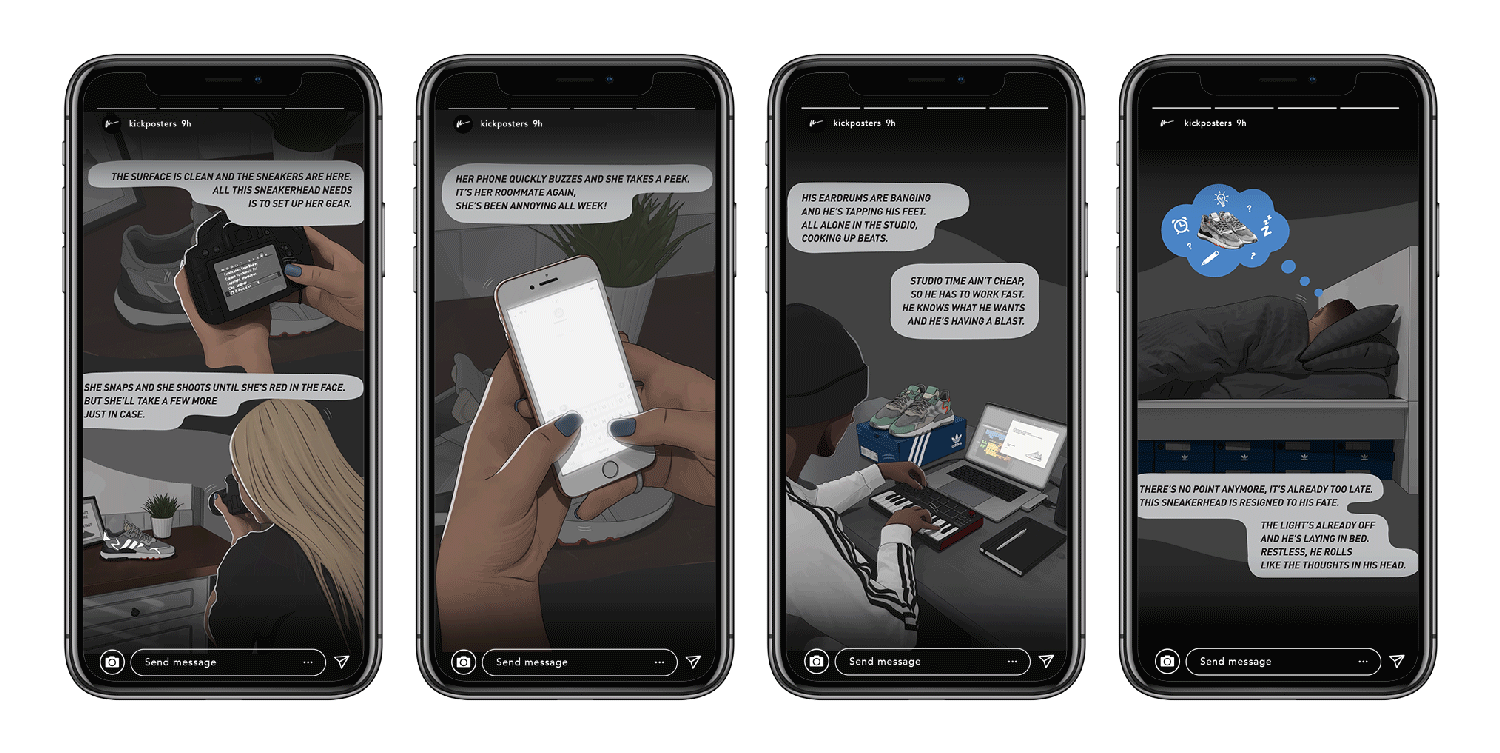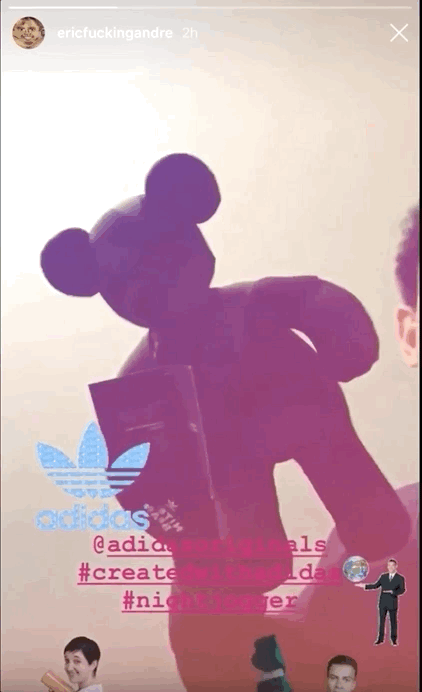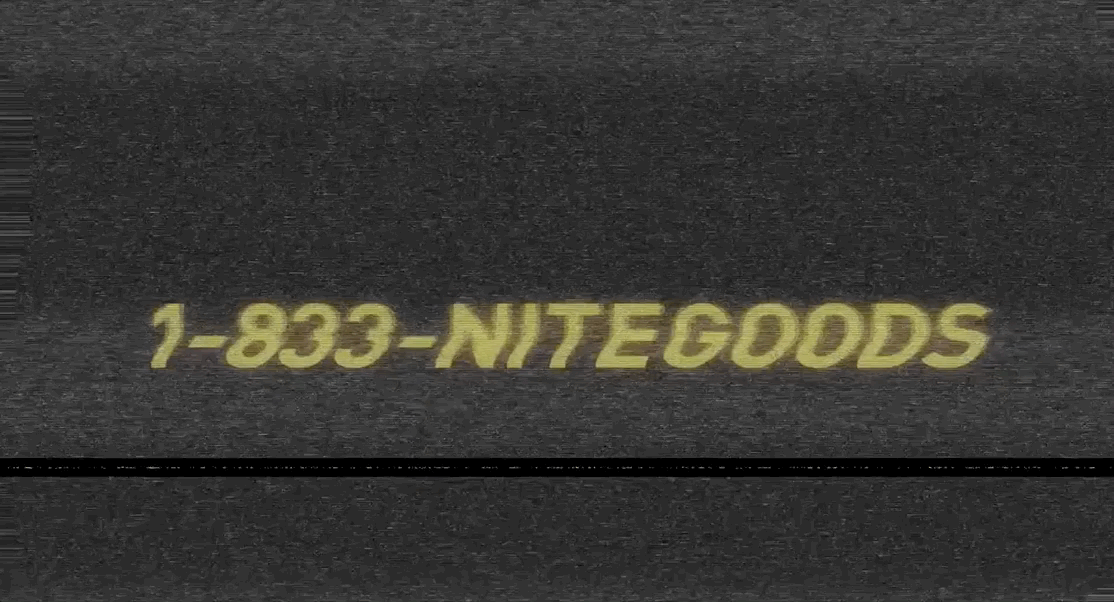 GO TO BED, SNEAKERHEAD launched on @kickposters' and Fabian's channels as a digital story on Instagram Stories.
For NITEBEAR, Eric André himself created a social-first infomercial, giving his fans a glimpse into what was to come.
For NITECHAT, a digital film announced the number, in ways only our audience would ever notice.
AFTER BUILDING THE HYPE, WE HIT THE STREETS
THE NITETIME "BOOKSTORE"
Outside one of the City's most iconic independent book shops, McNally Jackson, our bookshelves rolled out — when they rolled theirs in for the night.
Inviting our audience to take the books, while they still could.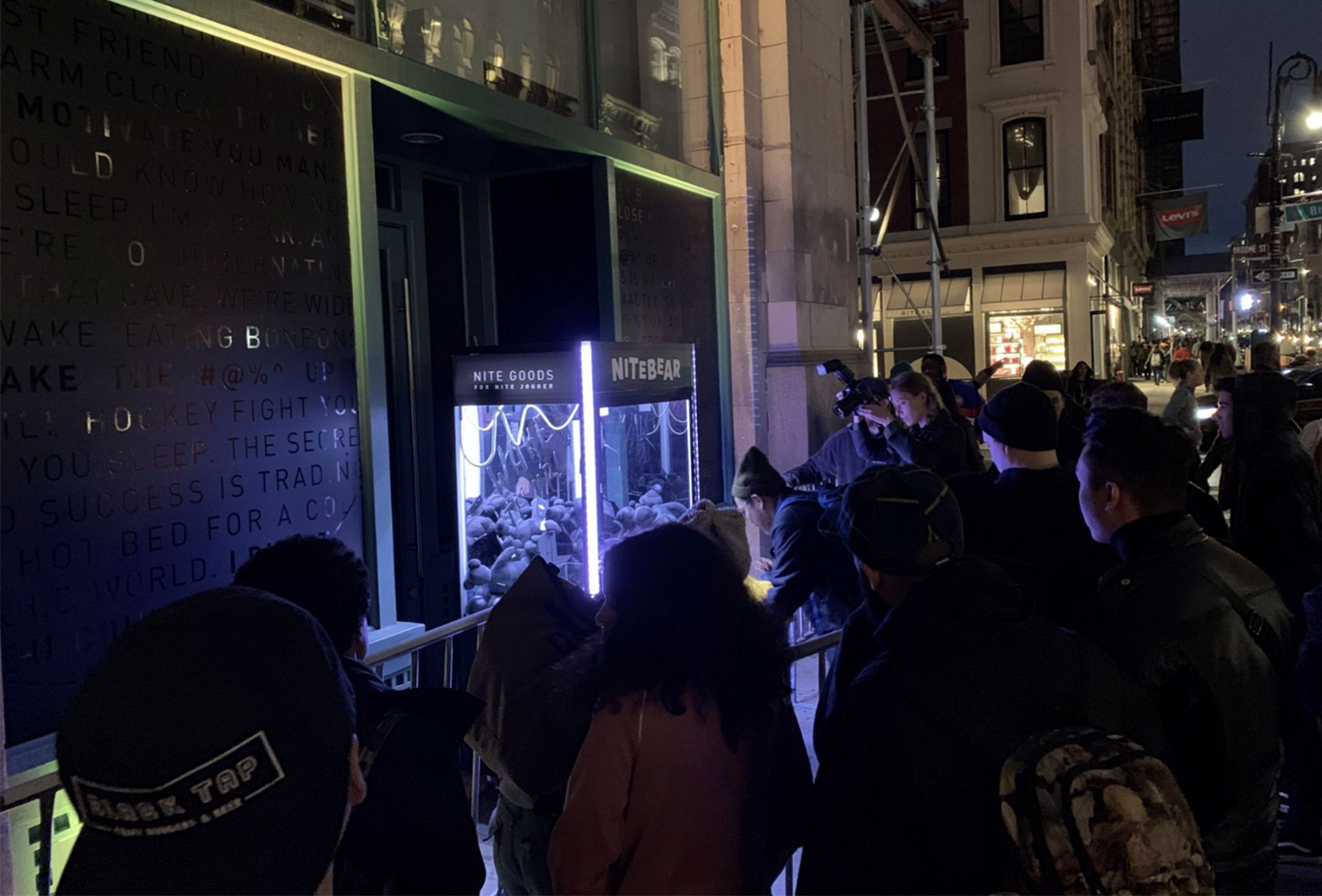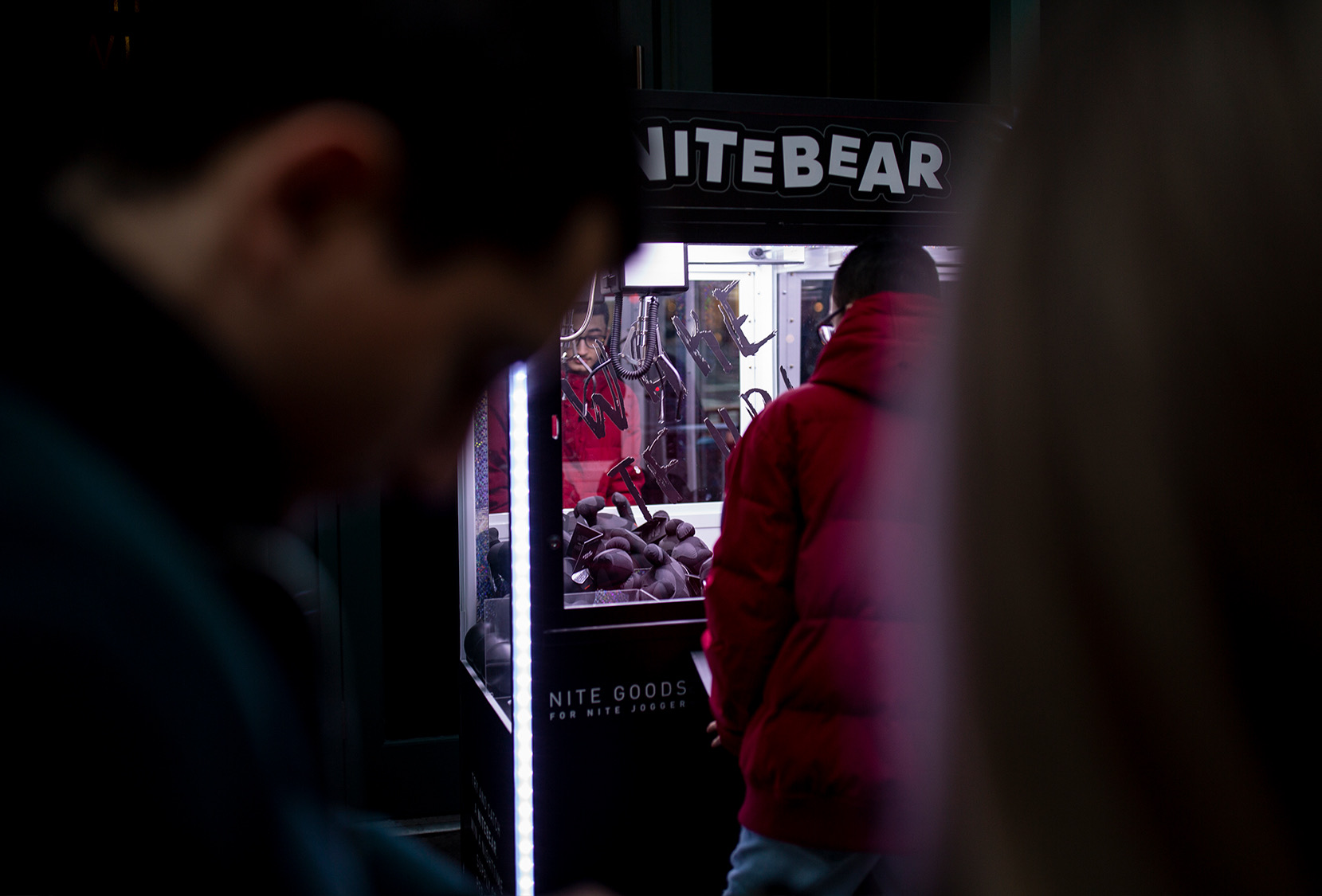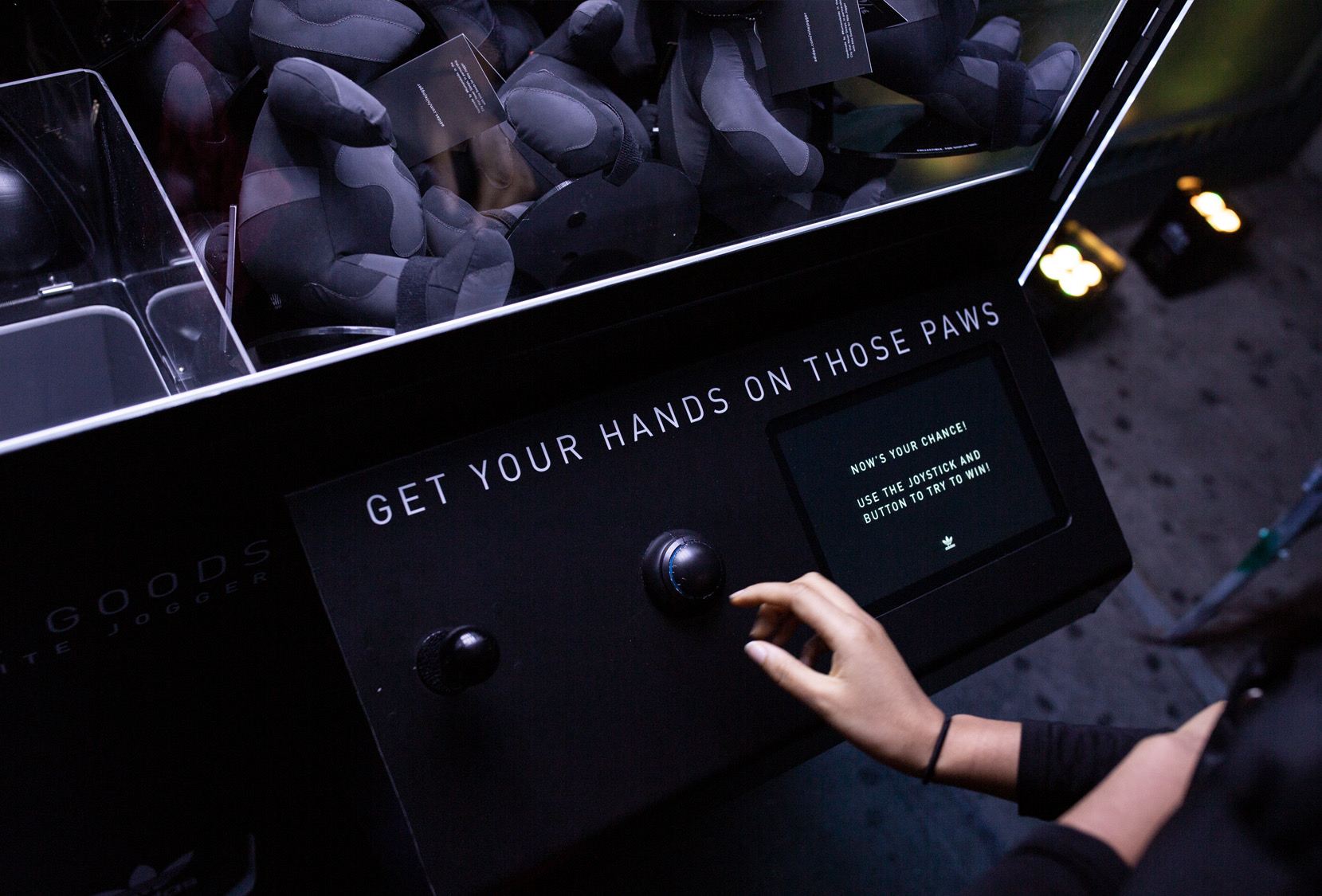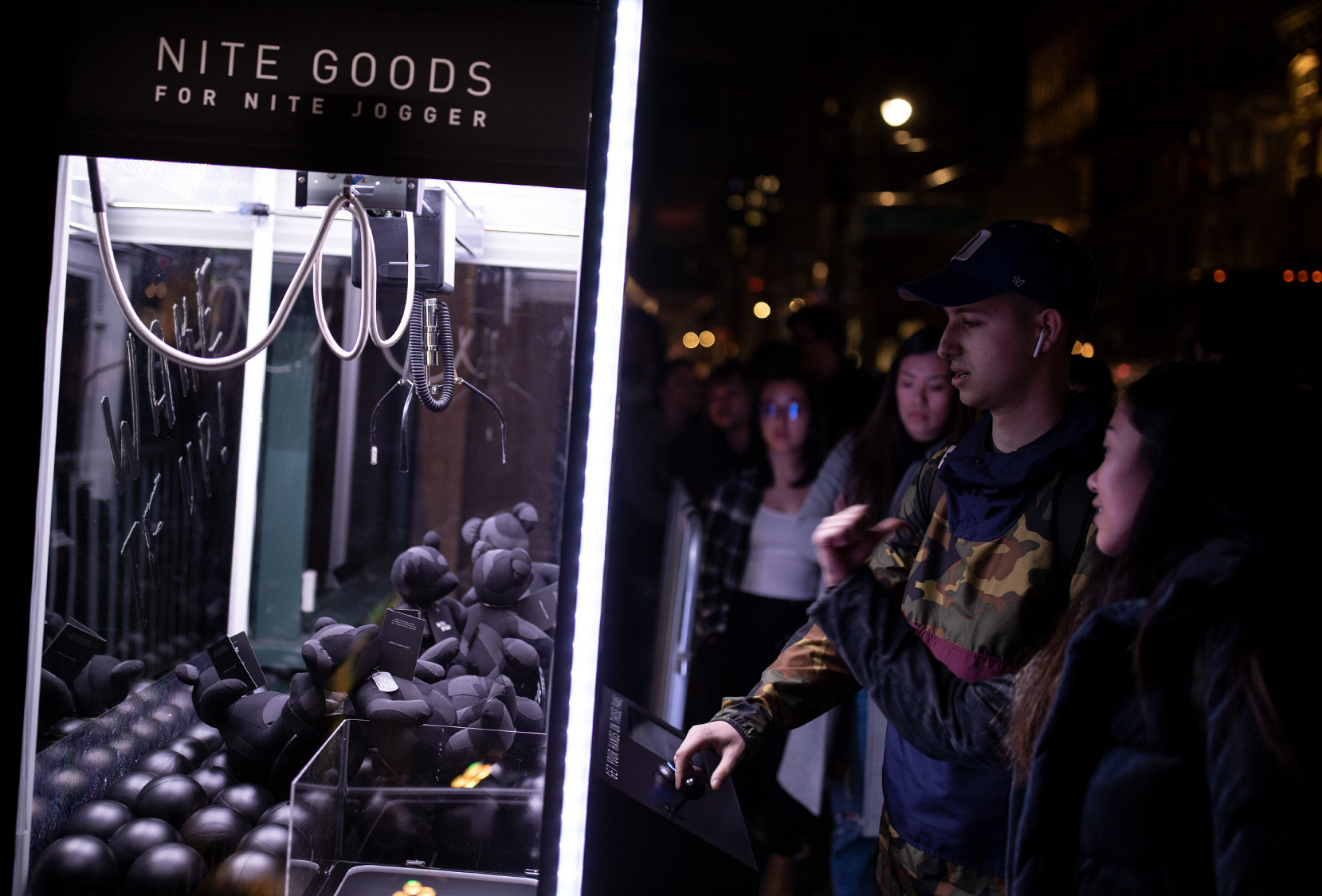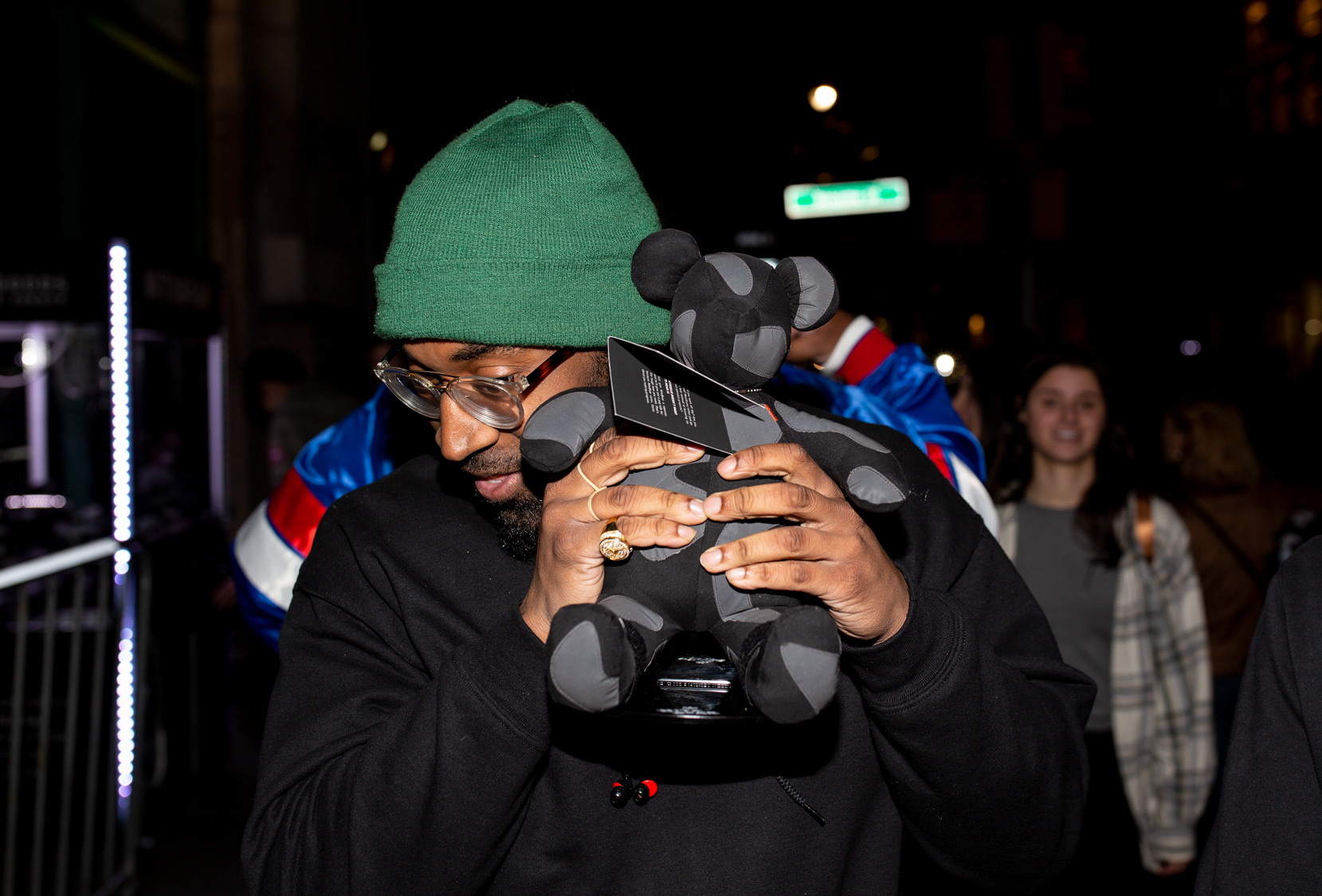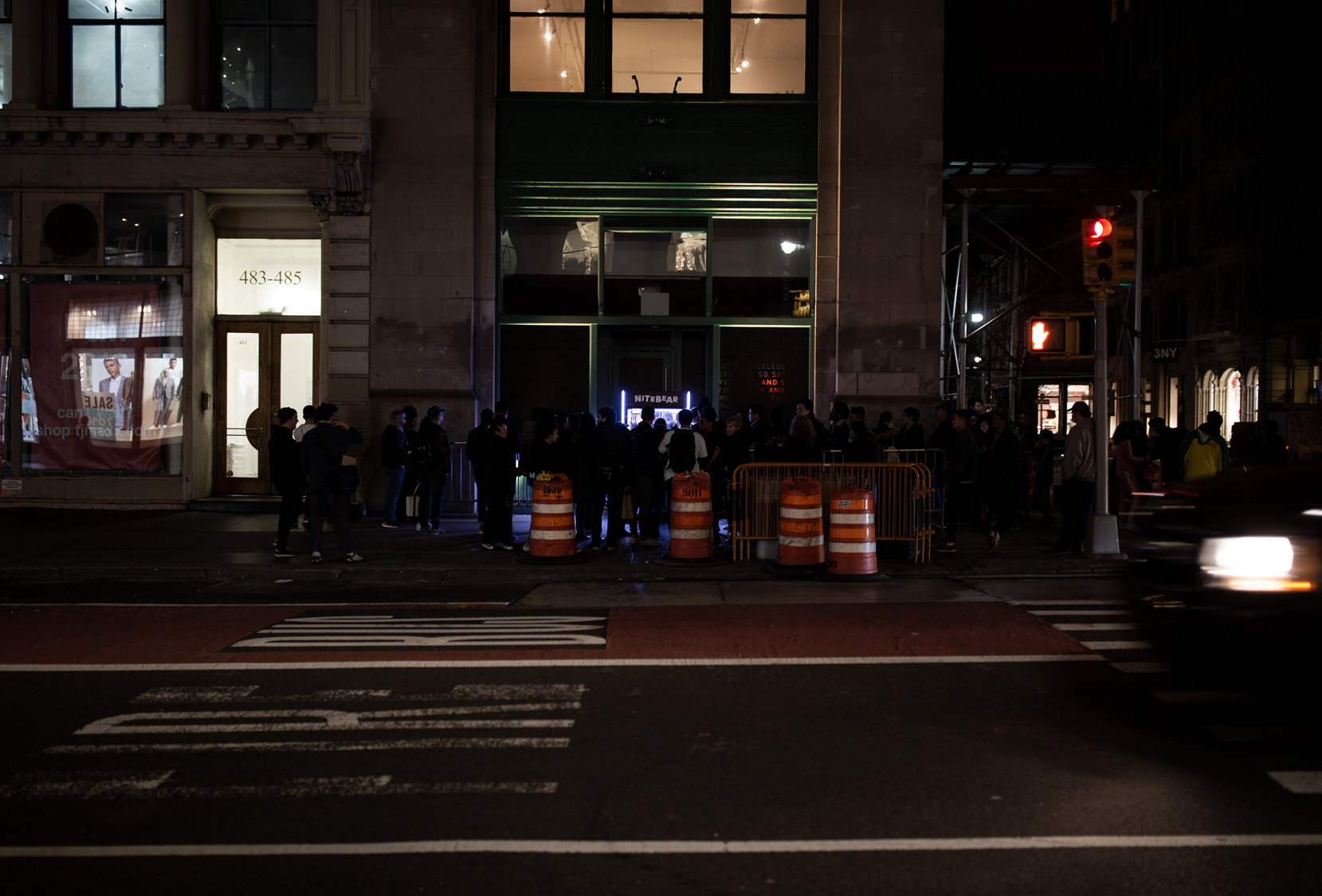 NITEBEAR CLAW MACHINE
On one of the most highly-trafficked streets in New York, a claw machine appeared, offering creators a chance to win a nighttime supply of pep-talks.
The new brand was then launched with a film,
based on late-night channel surfing.
RESULTS
+6.4M OUTDOOR IMPRESSIONS
+37M EARNED IMPRESSIONS ONLINE
93% INCREASE IN IMPRESSIONS ON @ADIDASNYC TWITTER
+10,000 ENTRIES TO WIN THE FULL KIT
WITH LINES FORMING +7 HOURS IN ADVANCE
FOR A SNEAKER THAT WASN'T EVEN RELEASED YET
AND EVEN HAVING THE NEW BRAND APPEAR
IN PLACES WE NEVER EXPECTED.
"FUCKIN' WEIRD… BUT I LIKE IT."
@214_COWBOYS_88
"WTH IS THIS?"
@WOO-TEE-DEE
"THIS IS NEXT LEVEL. ABSOLUTELY NEXT LEVEL. ⚡️"
@LIFE_OF_ETHAN